Yesterday, I finished all seven of the dollhouses that had been ordered from me for Christmas! Thank Goodness they are done! I cannot wait to get them off to the post office tonight.
I learned a very important lesson while trying to prepare these orders for Christmas: Don't get pregnant when you have lots of stuff to sew!
I had big plans for Christmas and my sewing machine. I was going to finish these houses, and then make a bunch of stuff for my family and friends. Since most of the orders came in during September I figured I would have PLENTY of time. Well, I was wrong. I got pregnant in September and spent nearly all of that month, October and November sleeping. I'm not even exaggerating. I've never been so tired in my LIFE!!
Last Saturday, I nearly had a dollhouse induced breakdown when I realized that I had cut out ALL of the dollhouses two inches too narrow. I had made up two of the houses already and they were just TINY. Hubs, and I could tell he was scared, tried to let me down as gently as possible. We came to the mutual conclusion that they had to all be re-cut.
Even though I know he wanted to, Hubs didn't tell me to "Measure twice, cut once". I think he realized that in a very fragile state, and on the verge of tears. I really appreciate his self control. Thanks Honey :)
So, after exhaustion, measuring mistakes and the sheer terror of leaving seven little kids without their homemade Christmas gifts, here's what I came up with. I'll take better pictures tonight before sending them off. I just snapped these with my iphone this morning.
Notice that the tablecloth on the table is orange and Halloween themed? Yup, we have our tree up, but the rest of the decorations in the apartment is still decorated for Halloween. It's shameful.
Most of the dollhouses are being sent out in twos. These two are a Farmhouse and a Barn.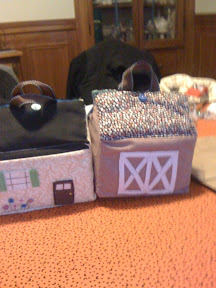 This is a Pet Shop and a Vet Clinic. I love the insides on these.
A pink house and a garage. This picture of the garage doesn't do it justice. I put some cute car fabric all around the outside.
And finally, a beach house. I love the beach house. Just wait till you see the inside. There's an ocean...and buoys...lol
So...that's just a taste for now...but more pictures tonight!!