This weekend my sister and my parents came to visit. The three of us girls went shopping while Hubs and my Dad stayed at the apartment to nap and play xbox. Who wants the boys to come shopping anyways right??
We started off the shopping trip with Michaels. I had big crafting intentions for the weekend and needed to get my supplies. My sister just started making her own jewelry and had promised me that she would teach me. She even bought me a set of tools before she came down. I had decided I wanted to make a charm bracelet. With lots of help, I picked out the beads, findings and other stuff that I needed to make my bracelet (and a bit more).
I've been wanting to learn how to make my own jewelry for a really long time. It seems like every time I go to the store and look at the beads I get overwhelmed. I kinda feel the same way when I think about my baby registry..... I just didn't know where to start. I would look for a kit or something to introduce me to beading, but couldn't find anything great in that arena either. But, this time, now that Manda knew what she was talking about, I felt better. Still completely overwhelmed, but at least I had someone to ask questions.
I really enjoyed making my bracelet. Though it took a little while for me to figure out what I was doing. Handy tip though, Manda told me she found a ton of beading how to's on YouTube. I go there sometimes to see how to apply makeup, so I guess I'll be going there for beading tips too.
Here's the final product. I'm wearing it today actually. I really like it...
Second on my list of crafts I wanted to learn over the weekend was crochet. Basically, I just needed to suck my family dry of their crafting knowledge. (oh, and don't worry, I let my dad fix the radiators in our apartment with Hubs so that he didn't feel left out) My sister in law, Brenda, had let me borrow a book of Baby Crochet. Here it is:
There are a TON of super cute baby crochet stuff in this book. My favorite being this garland of crochet hearts.
I know how to knit, but not crochet. My mom knows how to crochet, but not knit. I let her teach me :) Though, learning any sort of hand oriented crafts from my Mom is always kinda tricky cause she's a lefty. I just watched her do the crochet straight on facing her, instead of from the back. I have to say, that I am in love with crochet so far. The hearts are super easy...but I really like how they are coming out.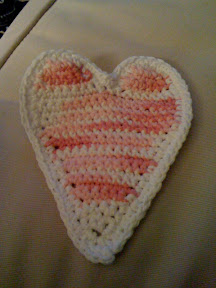 So far I've finished three. I'm thinking I'm going to do a heart for each letter in the baby's name, and then stitch the letters on with a contrasting thread. Then I can hang it over her bed. What do you think? Good idea?