On Sunday mornings, Guinness and I like to watch The Phantom Gourmet. The Phantom Gourment is a local foodie type show that reviews restaurants in the Greater Boston/Providence area. Basically, it's just a hour of straight advertisement and I don't believe it for a second. The film work is great though, it makes the food look soooo good. Even though I don't believe that any of the reviews are at all genuine (come on...most of the commercials are for the same restaurants they are reviewing....seriously) I find myself sucked in every week, and even sad if I forget to watch.
A few weeks ago there was a review of a soup restaurant in Newton called "The New England Soup Factory". I don't think I've had much for cravings so far in this pregnancy. When I say craving, I mean like TV sitcom cravings. I haven't wanted to get ice cream with pickles on top, or like my work-study boss in college, pasta with ketchup instead of sauce. The closest I've had to a "craving" is that I want to eat soup ALL THE TIME! Honestly, I'm not sure how different this is to my normal, non pregnant life. I really am a lover of soup.
The soup on this segment looked absolutely AMAZING and I wanted it immediately. I yelled to Hubs to come and look at the TV (he was in the kitchen), and asked if we could go get it for lunch. His response was "I am NOT going to Newton for SOUP!" In his defense, it was snowing out, but, that soup just looked amazing. I got over my disappointment and life went on.
A few days later, I was making plans to meet for dinner with some of my friends from my last job. They suggested going to The New England Soup Factory. I was pumped! That night I got the Tomato Cheddar Jalapeno soup and chicken curry salad sandwich. Both were superb. Don't they look delicious (yup...I take pictures of my food):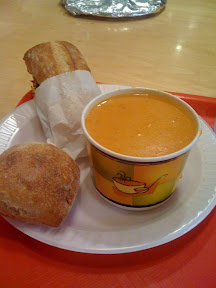 I ordered the same thing for Hubs on the way out and took it to go. He absolutely devoured it when I brought it home.
Since then we've "gone to Newton for soup" quite a few times. The Phantom Gourmet was absolutely right on this one :)