Hubs had a meeting in Boston tonight until 7:30. Since we share a car I decided I'd wait for him and do a little shopping.
I started with Macy's and the MAC counter. I hadn't been to MAC in awhile and I needed some lipstick. Surprisingly there was no one there and I picked my shade was paid in no time.
I thought maybe I'd go look at the jewelry next. To get to the jewelry I had to walk past the Benefit counter. They must have smelled me coming, because they quickly lured me in by asking if I wanted a makeover. Seriously, do I look like a girl that says no to that question? Absolutely not. I need all the help I can get. I agreed to the makeover but made sure to tell them that I couldn't promise to buy something. Those sly foxes didn't care though, they knew they had me. Did I buy something? You bet! I bought two things.
Within a half hour of entering the store I had already spent way more on makeup than I thought I should have. Thankfully,Hubs could have cared less. Apparently, the number in his head for spending too much on makeup is about $40 more than mine.
Needless to say I am pumped to get ready for work tomorrow. :)
When we got home Guin was super excited to see us. He was more than willing to relax with us since he needs to rest up for his big day tomorrow.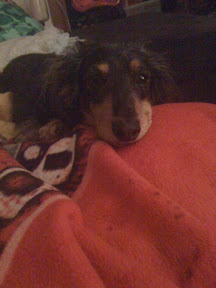 Really could he be any more adorable?