Hubs wakes up and puts together my lunch for me most mornings. Now he's home working on building his law firm (shamless advertising: (but not really cause he's an excellent lawyer) check out the Law office of Darren T. Greaney on facebook or @GreaneyLaw on Twitter!!) so he wakes up to make me lunch and drive me to the train station. I really am very lucky :)
Yesterday, when I took my lunch out of the fridge at work I noticed something special on my sandwich.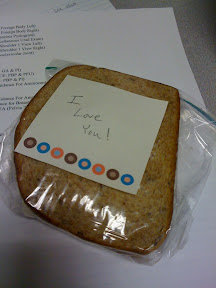 How nice is that?? It brightened my day instantly :).
I know I'm kinda bragging, but if u can't brag about your Husband on the Internet, where can you??
A whole day later I'm still thinking about that little note and how happy it made me feel when I found it. It really is the little things that count the most isn't it?