Last night was a gym night, so I didn't get to do any sewing. I think that may have disqualified me from the Kids Clothes Week Challenge too :( Bummer. I did do a little work on the packaging for Julie's dress and Isabelle's dollhouse since they desperately need to be mailed out tonight.
I wanted to make sure that my packaging looked professional. My business cards came out so cute that I decided to stick with the colors and design in those. I meant to go to the Paper-Source store in town and buy all kinds of pre-cut cards, but never got around to it. I discovered the Paper-Source while I was planning my wedding. It's an amazing store for card making and paper crafts. I had a ton of fun buying supplies to make my programs, thank you cards, place cards, save the dates, and invitations that we decided against... I really should try to do a blog entry on all the stuff I made for the wedding, if I can find pictures, or remnants of it. Anyways, I grabbed some paper while I was at Michaels the other day, that would work until I could get over to the store.
First I worked on making a hang tag for each of the products. Since everything I make is a custom order I wanted the hang tag to serve a dual purpose, telling the company name and saying thank you. I tried to keep with the same theme as the business cards.
What do you think? The red stitches I actually sewed in with my machine. I had intended it to be a flower, but it kinda ended up more free form. Sewing on paper in curves was trickier than I intended. I like how it looks though..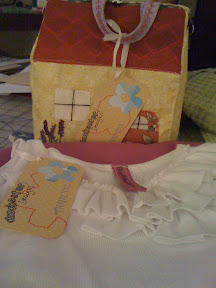 Next, I wrapped the items in tissue paper. Eventually I will have blue or yellow tissue paper to go with the scheme, but not yet. For now I used some tissue paper I had gotten and saved from Aerie awhile ago. It seemed crazy when I was saving it, but it was just too cute to throw away. I knew I could I could find a use for it.
I made little "dd" (remember, Dorchester designs not Dunkin Donuts) stickers to secure the tissue paper on the item. I had tons of these white labels left over from my save the date cards. They were cute little note cards that had labels with the date of our wedding on them so you could mark it on your calendar (not my idea, though I wish It was...was Martha's idea).
I thought it looked awesome, and brought it over to Hubs, who was doing some legal work in the office, to take a look. It looks like it says BP he says.. I turned the package around. Oh yeah, dd he says... Sometimes I just don't understand men. But...that entry is for another day.
So, I'm trying to express with the packaging that this is a real business venture and not a hobby. Does it work? What would you think if you opened up your Dorchester Designs package and saw this inside?